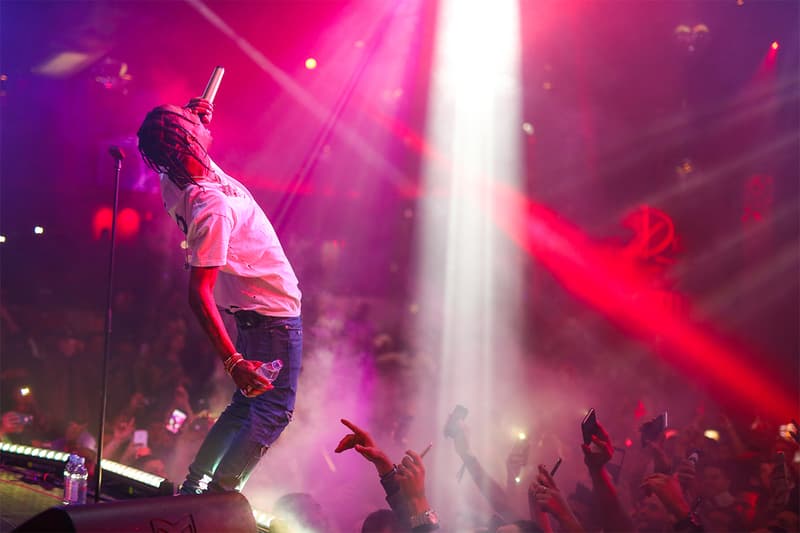 The music industry already took a big hit from the initial spread of the coronavirus, and with the World Health Organization (WHO) officially declaring the COVID-19 a pandemic, even more artists and organizers were pushed to either cancel or postpone tours, festivals and events. The increasing list of scrapped engagements include the likes of Coachella and South by Southwest 2020, the Rock and Roll Hall of Fame induction ceremony and all the tours under Live Nation and AEG — including the extensive world tours of Billie Eilish, Thundercat, and Post Malone with Swae Lee. As the number of these cancellations and postponements only continue to rise, we've compiled a list of music-centered events affected by the coronavirus.
Festivals
Coachella Valley Music and Arts Festival
Goldenvoice announced that both Coachella and Stagecoach Music Festival will be postponed until the weekends of October 9 and 16 and weekend of October 23 respectively. Coachella, one of the most popular and most profitable music festivals every year, was set to occur over two weekends in April 2020 with headliners Frank Ocean, Rage Against the Machine and Travis Scott. Ticket holders who will not be able to attend the new dates in October will be given full refunds.
South by Southwest
While ticket holders of Coachella were blessed to receive an early postponement notice, hopeful attendees of South by Southwest were not so lucky. The music, film and tech conference was cancelled a mere one week before its scheduled dates of March 13-22, following a meeting between Austin, Texas Mayor Steve Adler and local health officials. This year's music lineup initially included performances from Sudan Archives and Soccer Mommy, along with the highly-anticipated film premieres of Kitao Sakurai and Eric Andre's Bad Trip, Michael Showalter, Issa Rae and Kumail Nanjiani's The Lovebirds, Judd Apatow and Pete Davidson's The King of Staten Island and David Lowery and Dev Patel's The Green Knight. Tech giants like Twitter, Facebook, Vevo, TikTok, Apple and Netflix were also scheduled to attend, but already pulled out of the conference before its cancellation.
Something in the Water
Pharrell's Something in the Water announced the complete cancellation of its 2020 edition, noting that the festival will return on its scheduled April 23-25, 2021 dates. Tickets purchased for this year will be honored at next year's edition.
Dreamville Festival
J. Cole's second annual Dreamville Festival has been rescheduled from April 4 to August 29 in the same venue in Raleigh, North Carolina. The organizers confirmed that they are working on reconfirming all the performers originally slated for April, and that they hope announce the confirmed August lineup within the week.
Your safety is our top priority. See you in August.  http://dreamvillefest.com 
1,245 people are talking about this
Ultra Music Festival Miami
Ultra Music Festival will not be able to return to its homebase of Miami, Florida, due to the public health emergency declaration of the Florida Governor and the Centers of Disease Control and Prevention's Interim Guidance for COVID-19. The premier EDM festival entered its 21st year in the business this 2020, and featured a stacked lineup that included Madeon, Flume, Major Lazer, Zedd, Armin van Buuren, TOKiMONSTA, David Guetta and Martin Garrix.
Tours
Post Malone & Swae Lee
"The Runaway Tour" has seen Post Malone and Swae Lee on the road since September 2019, but the extensive engagement saw an abrupt end upon the mass suspension of Live Nation and AEG's tours. The duo were meant to close out the remaining North American leg this March with appearances in Phoenix, Ontario, San Francisco and Salt Lake City, but it seems like they will have to wait until June to resume their tour.
Billie Eilish
The remaining March dates on Billie Eilish's "WHERE DO WE GO?" tour have been postponed as part of Live Nation and AEG's mass tour suspension. The 11 tour dates, spread across Philadelphia, New York, Boston, Chicago, Nashville and more, have yet to receive rescheduled dates. "[I]'m so sad to do this but we need to postpone these dates to keep everyone safe. [W]e'll let you know when they can be rescheduled. [P]lease keep yourselves healthy. [I] love you," Eilish wrote on Twitter.
It is with great sadness to announce the following Billie Eilish 'WHERE DO WE GO' North American tour dates have been postponed until further notice. Details on postponed dates to be announced soon. All tickets will be honored for the new dates. (1/4)
"i'm so sad to do this but we need to postpone these dates to keep everyone safe. we'll let you know when they can be rescheduled. please keep yourselves healthy. i love you." - Billie (2/4)
1,681 people are talking about this
"i'm so sad to do this but we need to postpone these dates to keep everyone safe. we'll let you know when they can be rescheduled. please keep yourselves healthy. i love you." - Billie (2/4)
POSTPONED 'WHERE DO WE GO?' TOUR DATES
03/13 – Wells Fargo Center - Philadelphia, PA
03/15 - Madison Square Garden - New York, NY
03/16 - Prudential Center - Newark, NJ
03/18 - Capital One Center - Washington, DC
03/19 - TD Garden - Boston, MA
(3/4)
1,168 people are talking about this
POSTPONED 'WHERE DO WE GO?' TOUR DATES
03/13 – Wells Fargo Center - Philadelphia, PA
03/15 - Madison Square Garden - New York, NY
03/16 - Prudential Center - Newark, NJ
03/18 - Capital One Center - Washington, DC
03/19 - TD Garden - Boston, MA
(3/4)
03/20 - Barclays Center - Brooklyn, NY
03/23 - Little Caesars Arena - Detroit, MI
03/24 - United Center - Chicago, IL
03/25 - Bankers Life Fieldhouse - Indianapolis, IN
03/27 - Bridgestone Arena - Nashville, TN
03/28 - Enterprise Center - St. Louis, MO
(4/4)
1,157 people are talking about this
Stormzy
Asia-based fans of Stormzy have been excited to see the rapper since November 2019, but his March engagements in Tokyo, Hong Kong and Seoul have been cancelled while his shows in Shanghai, Kuala Lumpur and Singapore have been moved to November 2020.
Thom Yorke
Thom Yorke announced that he has postponed the North American leg of his "Tomorrow's Modern Boxes" tour. The Radiohead frontman rescheduled 11 tour dates, including both Coachella weekends, but is still scheduled to make his Mexico, UK and Europe dates from April to July.
Justin Bieber
Shortly after releasing his latest project Changes, Justin Bieber plotted an extensive stadium tour to run from May to September. With the increasing risk of the coronavirus, however, the singer and his team decided to downsize the Arlington, Houston, Cleveland, Washington, D.C., Detroit, Nashville, Columbus, Ohio and Glendale, Arizona shows from stadiums to arenas. Although venues only cited "unforeseen circumstances" as the reasons, many believe that it could come from the fear of the coronavirus.
Thundercat
Bassist virtuoso Thundercat is forced to halt his longest headlining tour yet, as he's included in the mass suspension of Live Nation and AEG's tours. The It Is What It Is artist just kicked off the tour in late February and will have to postpone his shows in areas like Minneapolis, Chicago, Toronto, Boston, New York and Nashville.
TNGHT
Electro duo TNGHT just reunited in September 2019, but their upcoming tour dates in Europe have been moved to July. The two confirmed the announcement on social media with a special poster nabbed from the 1999 film The Mummy, poking fun at their "live show curse." They also included some introspective questions, including "WILL THEY EVER PLAY LIVE?" and "IS KANYE THEIR SCORPION KING?." We'll find out this summer.
TOUR CANCELLED BY THE PANDEMIC. ALL DATES MOVED TO JULY

"WILL THEY EVER PLAY LIVE?" 

"IS KANYE THEIR SCORPION KING?" 

FIND OUT THIS SUMMER!
40 people are talking about this
Action Bronson
Action Bronson announced the postponement of his two-month tour on Twitter, promising fans that they will be rescheduled once "things normalize." Writing his statement in all caps, the rapper also noted that he "won't know how to handle anything" if the Nurmagomedov-Ferguson fight at UFC 249 will be cancelled for the fifth time.
EVERYTHING WILL BE RESCHEDULED FOR WHEN THINGS NORMALIZE. ILL BE TRAINING FOR WHEN THAT DAY COMES AND WHEN IT DOES YOURE GOING TO SEE THE BEST VERSION OF BRONSON EVER.
72 people are talking about this
My Chemical Romance
Fans who loyally awaited for the return of My Chemical Romance got their wish in 2019, but those who planned to catch the revered emo-punk band in Australia, Japan and New Zealand will have to wait. The five-piece announced that they decided to postpone their performances at Download Festival in Melbourne, Sydney, Japan and a show with Jimmy Eat World in New Zealand — all of which were scheduled for the last week of March. "We had very much hoped to have alternate dates confirmed before we announced the postponement, to make sure our fans knew we had every intention of coming back. Somehow, word got out before we could do that," the band wrote via Twitter. "However, please know that we are working on rescheduling shows and will try to announce those soon."
Maluma
Colombian singer-songwriter Maluma decided to cancel the remaining shows on the European leg of his "11:11 World Tour," postponing his stopovers at Milan, Athens, Tirana, Amsterdam, Zurich, Frankfurt, Paris, Luxembourg, Antwerp, Barcelona, Madrid, London and Istanbul. "I had all of the intention to perform on this tour, but with my team and due to the current global climate, we had to make this decision for the safety of our fans, tour crew and more," he said in a statement.
Cardi B
Cardi B has chosen to postpone the release of her upcoming single due to the coronavirus, with the "Money" rapper taking to Instagram to vocalize her fear and dissatisfaction with the government's actions. Uploading two different videos, Bardi asked for clarification of how long this virus could last before saying that she plans to move to the islands to hopefully get away from the havoc.
Events
2020 Rock and Roll Hall of Fame Induction Ceremony
The Notorious B.I.G., Depeche Mode, Nine Inch Nails, Whitney Houston, the Doobie Brothers and T. Rex will have to wait to get inducted into the Rock and Roll Hall of Fame as the ceremony has been postponed to an unspecified later date. The 35th induction ceremony was scheduled for May 2 and was meant to be televised on HBO for the first time in history.
2020 JUNO Awards
Canada's most important music award ceremony will not be pushing through this year, but the organizers have reassured fans that they will find a way to honor this year's winners and special awards recipients. Some of the nominees included Billie Eilish, Khalid, Mac DeMarco, The Weeknd and Tory Lanez.